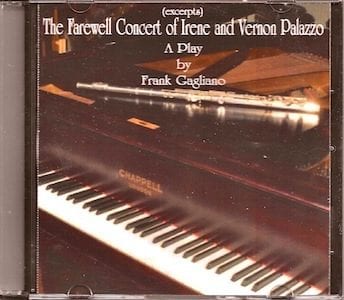 The Farewell Concert of Irene and Vernon Palazzo
[From the four page run-on part of Irene's ninety minute monologue:
". . .then he tells me that I must sign something because I must understand that there are exercises and such that get the beauties to open to the very soul their centers of pain that artists must reveal and tells me that he must be protected and free to use these dig-deep techniques that always work for him and all I can think of is if he'll expect my billie to swallow him and what happens if my billie gags but I only think that . . ."]
On a snowy night in Bodoni County, the songwriting team of Irene and Vernon Palazzo attempt to finish their new and final song. They are waiting for a long-lost daughter —Billie—to return; a daughter who, when she was sixteen years old, ran out on them, ten years ago. Lyricist/Faculty wife Irene Palazzo is plunged into an over-the-edge, wine-induced monologue, of rage, of regrets, thwarted expectations, self loathing, outrageous and raunchy humor, fear, pain and guilt— a guilt that is built on Irene's pimping her then teen-age daughter, Billie, to achieve the celebrity she (Irene) never achieved. But the newer horror Irene must face is the price for Billie staying; the deathly sibling Billie is bringing with her to join the Palazzo clan. . . .This ninety-minute emotional tidal wave — breaking on a series of shocking revelations— recedes, finally, to a calming flow of love and reconciliation.  And all is underscored throughout by the improvisations of Irene's brilliant, unable-to-speak, composer-accompanist husband, Vernon.