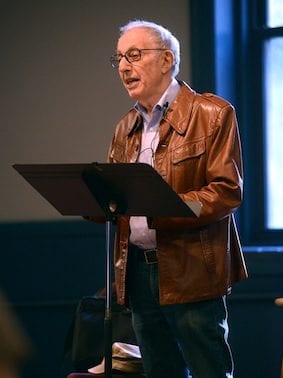 ". . .Oh, Martin, where has it all gone?
My life, my youth, my loves, my
artistry, my joy."
In a University black box theatre, a television star returns to give his alma mater a large donation for a new theatre, and confronts his former mentor—the now embittered, desperate and betrayed lighting designer,
Professor Peter Paradise.
In this one-performer, theatrical star turn, and in an orgy of words and over-the-top emotions, Professor Peter Paradise lacerates himself for his failed relationships and career, berates his student for selling out, and creates a multi-media extravaganza of image, sound, and light — his
"Chekhov light" —which, he's sure, will get him to transcend all his pain
—and break free from all of the "bottom-line shit down here."

". . .an edgy theatrical play. . .an orgy of words . . .repeatedly
interrupted by staccato-like sentence fragments and myriad
reflections. . .One could endlessly debate the parallel to Chekhov's
'Cherry Orchard,' with its reflection on the societal end of an era and its
melancholic farewell:"
        Frankischer Tag; Bamberg, Germany.