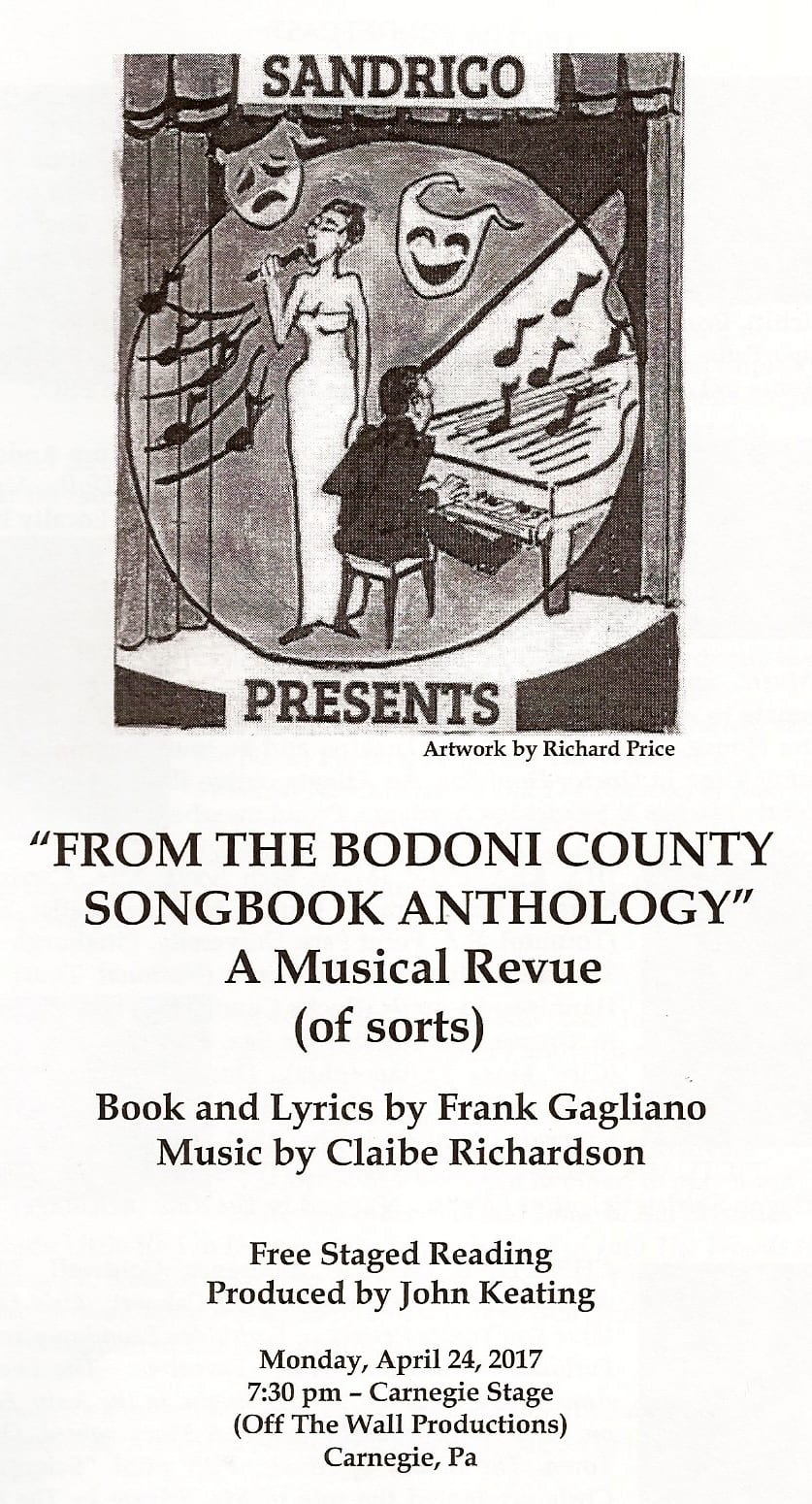 WHAT ". . .BODONI. . ." IS ALL ABOUT
FROM THE BODONI COUNTY SONGBOOK ANTHOLOGY is a 21st Century combination Our Town/Spoon River/Jacques Brel on acid.
FROM THE BODONI COUNTY SONGBOOK ANTHOLOGY was first developed at the Eugene O'Neill Theatre Center's Musical Theatre Conference, then at the Vineyard Theatre's Musical Workshop in New York, and then, by a Workshop in Pittsburgh.
FROM THE BODONI COUNTY SONGBOOK ANTHOLOGY is a musical revue (of sorts), in which the inhabitants of a mythical American County (most of whom want to get out) step out and sing their angst away. Songs range from the opening number, "BUY ME A TICKET OUT," — to the Bush-era anthem, "REAGAN'S LEGACY: I DON'T GIVE A SHIT ABOUT ANYONE ELSE BUT ME," — to the sung monologue, "A SONG OF LIFE FOR ALZHEIMER MARY" — to the realistic sung scene, "CUL-DE-SAC," in which a bunch of teenagers and a grieving mother explore Perry Carrington's suicide — to the satiric and surreal sketch, "DANCING WITH JOY," in which two innocents, Eubie Copocolo and Joy, walk into a travel poster to escape Bodoni County, and which features Joy's raunchy song, "SAND DUNE BLUES."
Overseeing it all is the Master of Ceremonies Jonathan Overview, who chronicles the fables and foibles of Bodoni's inhabitants, and whose need to become more than a Point Of View, culminates in his haunting song, "NOVEMBER IS MY TIME," an autumnal moment that changes Jonathan forever — and which poignantly, and lyrically, brings down BODONI's curtain on a note of compassion.