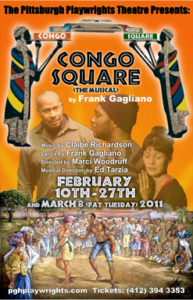 CONGO SQUARE
"AND THEY'RE DANCING, THESE BEAUTIFUL PEOPLE,
GOD PARDONED THEM BOTH.
FOR THE MIGHTY WILL ALWAYS BE PARDONED,
IF THEY'RE CORRUPT ENOUGH, AND CRUEL ENOUGH,
WITH GUTS ENOUGH, TO STAY OFF THE SIDELINES
AND JUMP ON THE DANCE FLOOR
AND STOMP ON THE SCURRYING ANTS. . .
WHILE WE TWO, SAIL TO FRANCE,
AND WE LIVE OUT OUR LIVES IN A DANCE."
(They dance wildly)
A trap door flies open, a rifle is thrown up onto the stage and Willy Beau, a young Black Man, wearing an R.O.T.C. uniform and carrying a rifle, climbs up into a dimly-lit space, where cobweb-covered Mardi Gras costumes, floats, elaborate masks and costumed mannequins have been stored for years. He's pursued by the Mayor, the police, and an angry mob. Not knowing why they're after him, Willy Beau wildly shoots some rounds out over the mob! In a kind of self-induced, frenzied amnesia, he retreats into musical fantasy worlds with his mannequin friends; fantasies that involve corruption, madness, the heroism of historical or mythical black characters–and Congo Square, where the slaves would dance to release their joy!
A white woman, Delphine, enters, with her own fantasies and, together, the two innocents fall in love; confront a corrupt mayor who gets into the space, and they journey through a minefield of corruption to discover the truth about what brought Willy Beau to this point. Finally — and often with outrageous humor — they find the strength to face a violent — but transcendent — destiny.
Through powerful, moving music and lyrics, CONGO SQUARE is a musical tour- de-force that takes the audience on a roller coaster ride of audacious theatricality — and into a moving spectacle of shattered, romantic innocence.
Original Book and Lyrics by Frank Gagliano
Music by Claibe Richardson
BELOW:
MP3's of full "Congo Square" score
(Accompanied on piano and sung by composer Claibe Richardson, with assist by playwright Frank Gagliano)