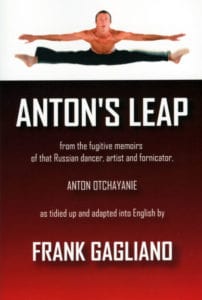 Anton's Leap
Part political thriller, part sex farce, playwright Frank Gagliano's first novel ANTON'S LEAP is narrated by free-associating, sex-obsessed ballet star, Anton Otchayanie (which in Russian means Despair). It is 1982 and Anton wants to defect from Soviet Russia. But to do so, he will have to survive a train collision in Prague, join a traveling troupe of erotic jugglers, fall in love, screw a lot, create ballet and Commedia dell' Arte scenarios, get sodomized with the nose of a Commedia dell' Arte mask, seek a super-strength serum, struggle to find an artistic persona, and develop compassion for other human beings. All this, while fleeing (in drag) from a Gay KGB agent and Anton's own psychopathic twin brother Vahktang who–in a Kafkaesque horror scene–confronts Anton in a Prague Fun House. Richard Wagner's testicles also play a role. For fans of picaresque flights of literary fancy like "Candide" or "Gulliver's Travels," and for devotees of unhinged surrealists like film director Federico Fellini, ANTON'S LEAP is a must-read tour-de-force.
More Reviews
"Dear Frank, Please forgive me for being so slow to respond to your amazing tour de force.  It's a knockout — ribald and raunchy and obviously well researched.  And written con brio and con amore, and I had a ball reading it.  More when I see you next month".  
    Gilbert Parker: Retired William Morris Vice President and Agent for Directors and Playwrights (Terrance McNally, Beth Henley, Mark Medoff, A. R. Gurney Jr.)

 


"Frank…Some books you can't put down.  
I think this is one of the best memoirs I have ever read.  
Every time I come to a paragraph … the words seem to read my mind…
In other words I am "right there" with the writer.
It is an engaging, funny, insightful, original and entertaining piece of work. I can't wait to finish it, and then start reading it ALL OVER AGAIN. This is my honest opinion.  In other words, Frank, I love it. All the best, Dominic"
 
Dominic Chianese–Actor (Uncle Junior, HBO's The Sopranos)

 

 



"ANTON'S LEAP does a lot of things.  The book will make you angry.  It will make you laugh.  You'll see yourself in the characters.  You'll wish you could be a part of the story.  Or not.  There is action, suspense, sex, more sex, and some suspenseful sex with action. There is intrigue. There are jokes.  Above all, ANTON'S LEAP is an uncompromising work by one of America's greatest writers, a man who first challenged off-Broadway audiences in the 1960s with his unique view of life and love. Frank Gagliano now uses that same gift for words to make mincemeat out of readers.  Like a great Fellini movie, ANTON'S LEAP is indescribable, surreal, and infuriating.  And fun.  And those aren't bad things at all."
–Raymond Benson, author of JAMES BOND–THE UNION TRILOGY

 
"Anton's Leap offers the reader a phantasmagoria of adventure, escape, political intrigue, near pornography and a whole lot more.  On the surface, it is the story of a defecting Russian ballet dancer; in reality, it is an in depth—and expert—exploration of, among other topics, ballet, opera, literature, psychology, commedia del' arte, gymnastics, politics and various human orifices.  The touch may be light, but the intellectual subtext lingers.  The novel's final word, 'leap," invites, if not demands, the reader to explore further."
Jim Nicholson, playwright
"Anton's Leap" is a wild and wacky psycho-sexual romp that reads like a triple cross between 'Tom Jones,' 'Myra Breckinridge' and 'The 39 Steps'…and all the other things that make life worth living."
Simon Saltzman, Free lance arts journalist and theatre critic:  President of the Outer Critics Circle; Member New York Drama Desk; American and International Theatre Critics Association.
"Looking through the pages of the prestigious, Shanghai-based, literary magazine 'Rendition' which is written in Chinese, (I live in China), I see the photo of Frank Gagliano. There is an extensive article in the magazine about one of Gagliano's plays. Across the page from him is a photo of Gabriel Garcia Marquez, a featured artist in the edition; beneath Gagliano's photo is one of Susan Sontag; at another near angle to Gagliano is Madonna; and at still another edge of Gagliano's smiling face, and referencing their Zeitgeist album, are the whitened pusses of The Smashing Pumpkins. . . .I just finished reading Gagliano's delicious, delightful and magnificently-sexy novel, ANTON'S LEAP; I loved it!  I'm thinking now, that if somehow, against restrictions: biological, geographical, and perhaps, moral –Gabriel Garcia Marquez, Susan Sontag, Madonna and The Smashing Pumpkins had managed to produce a child together, that child might well have written ANTON'S LEAP."

       
          Joseph Graves — Artistic Director, Beijing Institute of World Theatre and Film)
"If improbable doesn't turn you on; don't read this book.
If chutzpah doesn't turn you on; don't read this book.
If Rabelais doesn't turn you on; don't read this book.
Those are the threads that Gagliano has
 used to weave together the most riveting 
writing of the 20th and early part of the 21st century. The 
author has chosen to create an hysterically funny biography
 which underlines one of the everlasting truths of all time;
dumb luck trumps random planning every time."
           Michael Kane, retired TV Director, retired Visiting
    Professor of Theater (Cal State Fullerton)