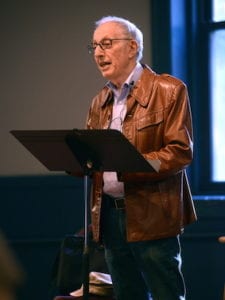 Frank Gagliano was born in Brooklyn, NY. He is married to former Opera singer Sandra Gagliano. His son Rico is the co-creator, co-producer, co-anchor of American Public Media's "DINNER PARTY DOWNLOAD," airing on many NPR stations throughout the country (Including WESA-FM in Pittsburgh), and can also be heard on line, at www.dinnerpartydownload.org Gagliano and Sandra live now in Pittsburgh, PA.
Frank Gagliano was part of the 1960's group of Off-Broadway playwrights that revitalized American Drama.
Degrees
University of Iowa, BA
Columbia University, MFA.
Gagliano's Educational Institutions/Residencies
Hunter College Adult Ed, Dramatic Lit (substituting for John Lahr, at John Lahr's request); Royal Shakespeare Co., London, England, Playwright-In-Residence, The Royal Shakespeare Company,1967 (observing Peter Brook directing the controversial "US"); Florida State University, Tallahassee, Assistant Professor of Drama, Playwright-In-Residence, and Director of Contemporary Playwright's Center, 1969-73; University of Texas at Austin, Lecturer In Playwriting and Director, E.P. Conkle Workshop for Playwrights, 1973-75; Distinguished Visiting Alumni Professor, University of Rhode Island, 1975. UNLV residency while in production for The Total Immersion Of Madeleine Favorini.
Benedum Professor of Playwriting 

West Virginia University, 1976-2010